Posted by
Dr Dal
on Aug 27, 2012 in
Anxiety Disorders
|
1 comment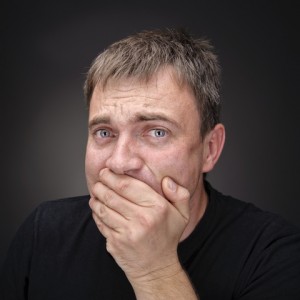 People normally worry about life in general – health, finances, family, or work-related problems. However, if the person's worrying becomes so intense that it limits him or her from functioning properly, the symptoms might meet the criteria for Generalized Anxiety Disorder or GAD.
People with GAD tend to worry endlessly about simple things. And this much more than normal worrying interferes with the person's daily activities significantly. The GAD minds always find something to worry about.
A person who heard from the news about a bomb scare may experience extreme anxiety for days or even weeks as negative thoughts race through her mind that something bad might happen again. This dread may eventually limit her to the house for fear of her safety. It can even lead to a nervous breakdown.
Generalized anxiety disorder, unlike phobia has no direct association with objects or situations as the cause of anxiety. It's a general feeling of fear which defines the person's daily life, with no provocation or reason in most cases. A friend who failed to show up on agreed time may lead a person to think that an accident might have happened which prevented his or her friend from showing up even if there is no indication of that. When a person cannot stop these anxious, worrying thoughts, it is GAD that is ruling his/her life.
Some people may develop GAD early as a child or later as an adult. Some symptoms of panic disorder, obsessive compulsive disorder, and other types of anxiety can be seen in GAD. People with GAD usually experience headaches and fatigue. GAD may be a life-long challenge especially if they occur along with other anxiety or mood disorders.
Symptoms of GAD
GAD symptoms may show in many different ways, including some of the following:
Nerve-wracking worrying about little and simple things
Not having control over constant worrying
Awareness of obsessive worrying
Inability to relax
Inability to focus or concentrate
Being easily distressed or upset
Problem with sleeping or staying asleep
Feeling exhausted easily
Constantly suffering from some pain such as headaches, muscle pains, agitated stomach, and other unexplained discomfort
Difficulty in swallowing
Trembling or twitching
Irritability, excessive sweating
Frequent urination
Shortness of breath
Diagnosis
Doctors and mental health care providers use the Diagnostic and Statistical Manual for Mental Disorder (DSM) criteria, structured interviews, or psychological questionnaires or tests to identify, define, and diagnose a person who thinks he/she may be suffering from anxiety disorder. DSM 5 will be published by the American Psychiatric Association in 2013 and some changes to grouping and criteria listed in DSM-IV are expected to be made.
To be diagnosed with generalized anxiety disorder (GAD), one must meet the criteria listed in the Diagnostic and Statistical Manual of Mental Disorders (DSM), summarized below:
For a duration of at least six months, the person suffers from excessive worrying about events or activities for most days of the week
Uncontrollable feeling of fear or anxiety
Severe anxiety or worrying that interferes with normal daily functions
Fear or anxiety that is not associated with another mental condition like substance abuse, panic attack, post traumatic stress disorder (PTSD), etc.
At least three of the following symptoms in adults and one in children – fatigue, inability to focus or concentrate, restlessness, sleeping problem, irritability, and muscle tension.
Generalized anxiety disorder usually manifests along with other mental health conditions which makes diagnosis and treatment more challenging for doctors and mental health care providers. Mental health conditions that commonly co-occur with GAD include:
Panic disorder
Phobia
Substance abuse
Depressive disorders
Post traumatic stress disorder
Eating disorders
Treatment  
Like other mental illnesses, GAD likely responds to one of the two types of common psychiatric treatment options: 
Medications. There are commonly two groups of medication usually prescribed by doctors to help treat the symptoms of GAD – anti-depressant medications and/or benzodiazepines.
Anti-depressant drugs, although mostly used to treat depression, are also helpful in treating anxiety disorders including GAD. Nowadays selective serotonin reuptake inhibitors (SSRIs) or serotonin neuro-epinephrine reuptake inhibitors (SNRI) are the most commonly used ones. These drugs may have to be taken for several weeks before any positive response to the suffering from GAD symptoms may become evident. Antidepressants can cause some side effects like headache, sleeping problems, or nausea, which are more likely in the beginning of treatment of dose adjustments. Hence it is important to see the prescribing doctor regularly to monitor response and potential adverse events
Psychotherapy. Cognitive behavioral therapy or CBT is most commonly recommended type of psychotherapy that works to focus on the thought and behavioral patterns that triggers anxiety. Such negative thoughts and behaviors are eventually altered with positive thoughts and behavior.
While some may respond positively to medication, others may show improvement with psychotherapy. The doctors will discuss and determine the appropriate treatment for each individual based on the level of severity of the disorder. Combination of both modalities might get better response rates especially in complicated, treatment resistant cases, though each modality may work alone, too.